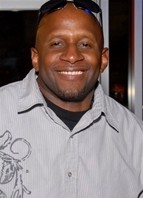 alias: Prince, Price Yeshua, Prince Yashia, Prince Nashur
birthplace: Chicago, Illinois
born: March 21 (Aries)
height: 5 ft. 11 in.
weight: 200lbs.
Prince Yahshua was born in Chicago in 1970, and got into the adult industry completely by accident when he was featured in a scout video sent out for a wanna be adult actress to various adult studios. West Coast Productions was not interested in her, but found his skills quite professional. Since his discovery in 2005, Prince Yahshua has been in over three hundred adult movies and has won several rewards.In 2010 Prince Yahshua broke his penis (the first time!), him to take a short break from the industry with the financial assistance of the then exclusive studio WCP.. It was rumored the female star he was performing with was very drunk and contributed to his malfunctioning dick. So, you can really break your willy! Let that be a lesson. Although fans and the industry feared her would never perform again, after just a few months of recovery and tons of money, Prince Yahshua returned to performing.After splitting with WCP, Prince Yahshua teamed with Justin Slayer International and put his name and theirs on the adult industry map. Since being released from their exclusive contract, Yahshua has gone on to form his own studio, Silverback Entertainment.In August 2013, Prince Yahshua announced he would need to have another surgery to correct the reoccurring penis injury. Expecting to need over thirty thousand dollars, he began a fundraising campaign to help with payment.
---