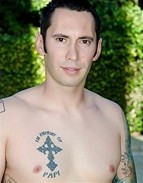 birthplace: Queens, New York
born: July 2 (Cancer)
height: 5 ft. 7 in.
weight: 149lbs.
Tommy Pistol began his adult career after working eleven years as a sketch comic. And anyone who's a fan of his work can see the comedic influence in just about every one of his titles. Hailing from Queens, this tatted cocksman initially shot videos for the then online-only studio, Burning Angel.With the surge of interest in alt porn, it wasn't long before Tommy Pistol found his place in the industry. His first adult film to be released by a distributor was 2006's Neu Wave Hookers, a re-imagining of the 1985 classic. While his rising fame in the industry was undoubtedly impressive to those in his specific punk-rock ish genre, Tommy Pistol hasn't limited himself to adult, performing in mainstream projects under the name Aramis Sartorio.In 2010 Pistol wrote, directed and had the title role in the independent horror-comedy The Gruesome Death of Tommy Pistol which received much controversy for its groundbreaking gore and horror.Tommy Pistol has received many industry awards, including AVN Awards for Best New Male Performer, AVN Award for Best Actor and an XBIZ award for Best Supporting Actor for The Temptation Of Eve.
---